If you are ready to sell you don't have to wait. Selling during the holidays doesn't have to spell disaster. You may be surprised that there are advantages to selling your home in the winter!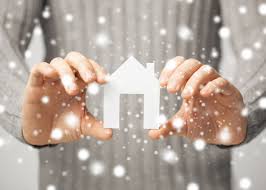 The Internet Has No Seasons
Traditional home buying and selling seasons have evolved because of instant internet access to property listings. While spring is still the hottest home-buying season, serious home buyers are always on the lookout, checking out the latest listings on their tablet before bed or while waiting for their kid's football game to end.
Today's buyers do the bulk of their home searches online, and that's especially true when the weather outside is not so cheerful. This means your online listing and photos are especially important. Make sure you use high-quality photos that show off your home's selling points. Photos of the exterior in all seasons can help, as can including a video tour and night shots of the exterior with all the lights on.
Competition Dries Up
Come spring, sellers will flood the market and your home will be just another fish in a great big pond. But right now, you've practically got the market to yourself.
In the past 5 years in the Chicago market, existing home inventory has fallen an average of 35% from November to December. That's 35% less competition on the market if you list your home during the winter! Buyers have fewer homes to choose from, which means you could sell your house faster.
Buyers Mean Business
Most folks want to curl up under a blanket next to a warm fire on a cold winter day. If a buyer is trudging around in freezing weather to look at your home, they must be serious. That's because many winter buyers are working against a deadline, whether it's an expiring lease, relocation, or a contract on their current home.
Time Off
You may think people are less likely to see your home during their hectic holiday schedules. That can be true, but keep in mind most people have more time off around the holidays. That means more time for browsing their favorite home apps, dreaming about their future decor, and even scheduling home showings.
3 Tips to Setting the Buying Mood
Nothing says welcome home quite like walking out of the cold into a nice, warm house that's dressed up for the holidays. Admit it: Your home looks good this time of year! It's easier to make a house feel like home in the wintertime. Here are a few tips to help you set the buying mood.
Keep it simple.

Decorations should accent—not overpower—a room. Less is more. You don't want your Christmas tree to take up half the living room.
Crank up the cozy.

Light a fire in the hearth, play soft holiday music in the background, and prepare fresh-baked goods or mulled cider for guests.
Shine a light outside.

Winter days get dark early. Brighten your home's exterior with outdoor spotlights. A few holiday lights are okay. Just save the Clark Griswold light show for next year.
Remember . . . the nicer your home presents itself, the more likely it is to sell—and for more money.
Ready to Sell Your Home?
With all these advantages on your side, hopefully selling your home in the winter won't feel so daunting.

The trick is to price your home correctly, prep and photograph your home so it attracts online attention and shows beautifully.

Let me know if you need help now or assistance in getting your home ready for the Spring market.